Best Carpet Junk Removal Services in Lake Worth, Florida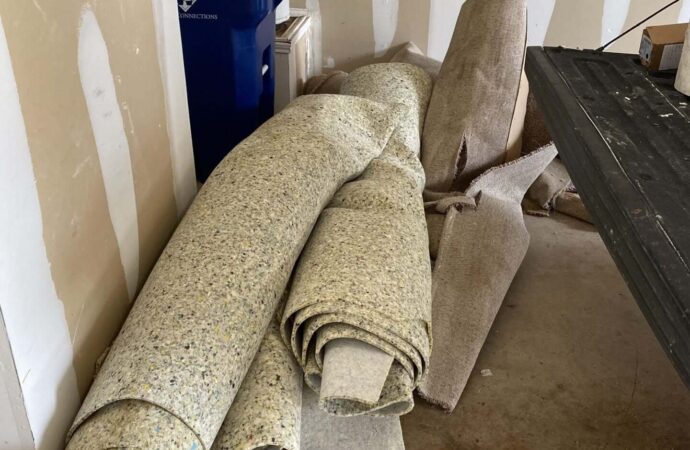 It can be difficult to find nearby carpet junk removal or disposal services that will not only pick up the carpet but even help you remove it in case you are having a difficult time dealing with the nails and the entire process. The reason why it isn't that simple is that most businesses in the area will provide a dumpster that you can have on your sidewalk or front yard, and they will come later to pick it up once you're done with the removal or just focus on picking the carpet once you finally dealt with it. At Lake Worth Junk Removal and Trash Haulers, we do not support this service and prefer to help you with everything, including the general removal of your carpet you may be struggling with. 
We will remove and dispose of your carpet so that you don't have any to do. If you have multiple ones to get rid of, we can bring a different truck and dispose of them, no matter the number you have on your property.
When replacing or installing hardwood floors, it is important to get rid of old carpets. You might find that your trash company won't accept carpets in poor condition or in large quantities. This is because they aren't equipped or able to pick up all the items due to the truck they use and how they have to meet a quote with the regular municipal service and the rest of the residents.
It is easy to recycle carpets. Let us help you with this and other tasks and ensure everything goes to the right places.
How to Get Rid of Your Carpet in Lake Worth
The tack strips, which are made from small planks of wood and nailed using nails, hold the carpet in its place, and you will usually need to deal with them.
These wood pieces can be reused when you lay new carpet, so make sure you remove them properly, or you will also end up damaging your floors. If you need some help, you can follow these steps:
Locate the tack strips under the carpet by looking for the nail head.

You should place a pry bar between the floor and the tack strip below the nail. However, be careful how you place it so that it doesn't damage the floor or wood.

Use a hammer to pop the nail and removing it.

Continue to remove every nail from your tack strip.

Put the tack strips into a bag and allow them to dry.

Once all tack strips are removed, sweep the floor for loose nails or splinters.
If you're interested, our team can help you with the entire process. However, it will cost you an additional fee based on how much carpet junk you have to be removed.
We will then take care of proper disposal, or if you don't need us for this part, we will get there, lift the carpets and load the truck with them.
Nearly all types of carpet can be recycled and although there are exceptions, we have excellent facilities that can help.
Get all the support and assistance you need to dispose of your items, and contact us today for a free quote.
Here is a list of our services you can get at Lake Worth Junk Removal and Trash Haulers:
---
Lake Worth Junk Removal and Trash Haulers is the top company in Lake Worth  that offers the best residential and commercial junk removal services. Here's our additional services:
---